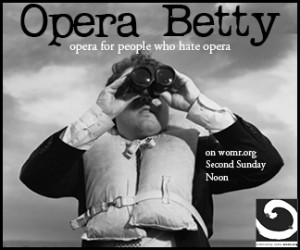 Opera Betty  began when the newspaper I wrote an opera column for went belly-up.The demise of the paper and my column are believed unconnected. Recently the demised paper's managing editor was busted with $21k in drugs believed for distribution – but that's nothing compared to what goes down in opera.
The column was geared toward people who read more Spin than Opera News – a fantastically underserved demographic, if you ask me. But no one did ask me, so I started the Opera Betty website. We accidentally sold the domain operabetty.com to Nigerian pirates in 2015, so now it's all here under the Trout umbrella.
Radio Betty is the radio version, airing on WOMR the second Sunday of every month at noon, eastern time. I frequently include composers who aren't dead yet, and talk about the older operas in ways that don't make you wish you were dead.
I did an interview on Modern-Day Mozartian if you're curious about what possessed me to do all this.
Opera Betty on Facebook | Opera Betty on Twitter | opera.betty@gmail.com