For the February broadcast on WOMR I was going to put together a Valentine show but ran into some trouble.
Valentine's Day is a little rough for opera characters. Mimi, Mario, Violetta, Ernani, Carmen, Manrico, Lucia, Aida, Tristan and Isolde are all dead and most of the others are locked in their rooms writing bad poetry.
And then I thought I'd do a David Bowie tribute show, but my favorite track on Blackstar has a string of f-bombs, none of them subtle but all very catchy. So I thought about an opera that made me think of David Bowie and came up with Monsters of Grace, by Philip Glass.
Now you're probably thinking I picked Monsters of Grace as a tribute to David Bowie because of Scary Monsters – which is one of my favorites because obviously – but you'd only be partially right. I picked Monsters of Grace because it's based on the poetry of Rumi, the sufi mystic.
Our new favorite game here is "Bowie or Rumi" – in which you guess who penned the lines (if they even had pens in 13th century Persia). Here are some examples:
Stop the words now.
Open the window in the centre of your chest,
and let the spirits fly in and out.
Or
Wish, and the storm will fade away
Wish again, and you will stand before me while the sky will paint an overture
And trees will play the rhythm of my dream
Are they Bowie, or Rumi?
The New York Times called Monsters of Grace "a work of mysterious possibilities."
Glass responded to Rumi's poems which are meditations on the range of human experience: Inspiration for art, companionship and compassion, ruminations on earthly pleasures, questions of heaven, the secrets of life, joy, mortality, recognition of the self and the nature of God.
Sounds like opera.
Music Critic Joshua Kosman writes of Glass: "The deliberate simplicity of his harmonic and rhythmic palette are old news by now, but what's remarkable is how much depth and emotional force he still manages to wring out of those restricted resources. It's not just the teasing elusiveness of lines like "Don't go back to sleep!" that make the music seem as if it's emerging from a dream state; it's the hypnotic repetitions of familiar harmonies in unfamiliar guises, which slip right past the listener's rational apparatus."
Monsters of Grace is a multimedia chamber opera in 13 short acts directed by Robert Wilson, with music by Philip Glass and libretto from the works of Rumi. The title came from a typo when Wilson used a line from Hamlet: "Angels and ministers of grace defend us!" Auto-correct does it again.
The texts of Monsters of Grace is translated from the Persian by Coleman Barks with John Moyne and AJ Arberry, and the recording was released for Rumi's 800th birthday.
Because this is radio we mostly talk about the music and libretto, but "Monsters of Grace," is billed as "A Digital Opera in Three Dimensions." The opera is made up of 13 unconnected segments, each of which combines computer-generated 3-D visuals. Yes, if you go you get to wear 3d glasses. The music is performed by a seven piece ensemble and four singers.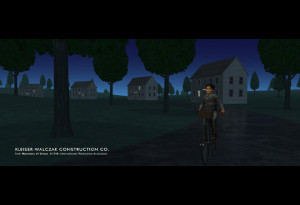 Critic Joshua Kosman goes on to say of the multi media aspect of the performance "Wilson's most vibrant sequences — including a suburban landscape with a small boy bicycling toward the audience out of the twilight gloom, or a family perched atop an aquatic A-frame house that floats from the tropics to the arctic in the space of three minutes — grip the imagination.
The 3-D effects are used sparingly, but always to splendid effect. The tropical rain forest is home to a large and frighteningly vivid dragonfly, and hands occasionally reach directly into the audience. In the piece's most exquisite moment, a small songbird flies slowly and gracefully across the center of the auditorium."
Perhaps the best summation of the piece comes during "Like This," when the singers intone, "If anyone wonders how Jesus raised the dead, don't try to explain the miracle. Kiss me on the lips — like this."
In the liner notes of Monsters of Grace, Philip Glass says "Over the last three years, Bob Wilson and I have been meeting to work on a new theater piece, Monsters of Grace. Since Einstein on the Beach in 76, we have come together on several occasions to make new work, but unlike those projects, with this present work, we have had a real opportunity to sit together and engage in a new world of ideas. Of course image, music and structure are at the root of what we are thinking. We are, moreover, addressing a challenge of a new technology and it's impact of a developing artistic view. It is fair to say that as an on going process, it is still fluid, elusive, and for us, full of surprise."— Philip Glass, 1997
While I would love to watch the chamber opera in all its 3D digital splendor, it's perhaps just as well that this is radio and we only get to listen to Monsters of Grace. In the New York Times, Director and Designer Robert Wilson is quoted as saying "I hated that!" and "It was one of the most embarrassing things in my life."
It's safe to say Monsters of Grace is not Einstein on the Beach.
When Monsters of Grace was first produced, in 1998, digital animation wasn't where it is now. According to the liner notes, this seems to have been the project's main flaw. It took twenty animators almost a full year to complete the footage based on Robert Wilson's original intent. Wilson, who has been described as liking to maintain great control over his projects and to change details at the last minute, gradually grew frustrated upon seeing how much time was required to change the animations, and ended up distancing himself from the animators. This led to a final product that, from his standpoint, was unpolished. In an interview with the New York Times, he remarked, "This is like being a dog with a litter of puppies that went away six weeks later. . . . Here I was working with people who didn't know my work, in a medium I didn't know."
I can't help but wonder what would happen if Wilson had today's technology to realize his designs.

Bowie or Rumi:
1
Stop the words now.
Open the window in the centre of your chest,
and let the spirits fly in and out.
2
Wish, and the storm will fade away
Wish again, and you will stand before me while the sky will paint an overture
And trees will play the rhythm of my dream
3
Soul love – the priest that tastes the word and
Told of love – and how my God on high is
All love – though reaching up my loneliness
evolves
By the blindness that surrounds him
4
My prayer flies
like a word on a wing
Does my prayer fit in
with your scheme of things?
5
Vision, see nothing I don't see.
Language, say nothing.
The way the night knows itself with the moon,
be that with me. Be the rose
nearest to the thorn that I am.
6
There's such a sad love
Deep in your eyes.
A kind of pale jewel
Open and closed
Within your eyes.
I'll place the sky
Within your eyes.
7
Where do we go to now?
There's nothing in our eyes
As lonely as a moon
Misty and far away
8
The breeze at dawn has secrets to tell you.
Don't go back to sleep.
You must ask for what you really want.
Don't go back to sleep.
People are going back and forth across the door sill
where the two worlds touch.
The door is round and open.
Don't go back to sleep.